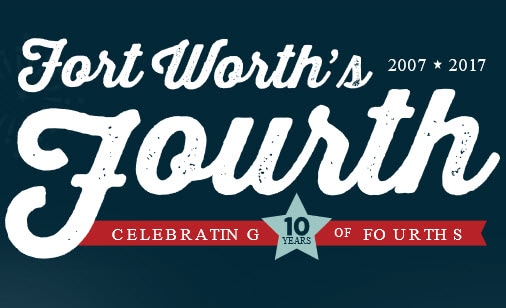 Panther Island Pavilion
395 Purcey St
Fort Worth, TX 76102
Tuesday, July 4, 2017
2 p.m. to 10 p.m.
Fireworks at 10 p.m.
Glittering, colorful and dancing against a backdrop of stars, the fireworks show at Fort Worth's Fourth is one that shouldn't be missed. It's the biggest fireworks show in North Texas, so if you're mesmerized by flashy lights, mark your calendars and bring your family along for the 10th annual event.
In addition to fireworks, Fort Worth's Fourth includes a KidZone, zip line, bounce houses, face painting, tubing, water slides and many other activities. There's also live music from tex-mex honky tonk band Tejas Brothers and high-energy cover band Party Machine.
If you've never heard of flyboarding, it's also something you have to see. At 9:35 p.m., there will be a flyboard show with LED lights. Flyboarding takes aquatic sports to the sky with advanced hydroflight equipment. Another aerial spectacular taking place at the event is the F-16 flyover, which is scheduled for 8 p.m. and features the 301st Fighter Wing.
The event is free to attend. However, if you want to take advantage of special amenities like prime show views, VIP bathrooms, a shaded lounge and VIP parking, you can opt for a VIP pass.
Overflow parking is $10 and preferred parking is $20, or you can catch a ride with Uber. To learn more about the event, visit the Fort Worth's Fourth website.