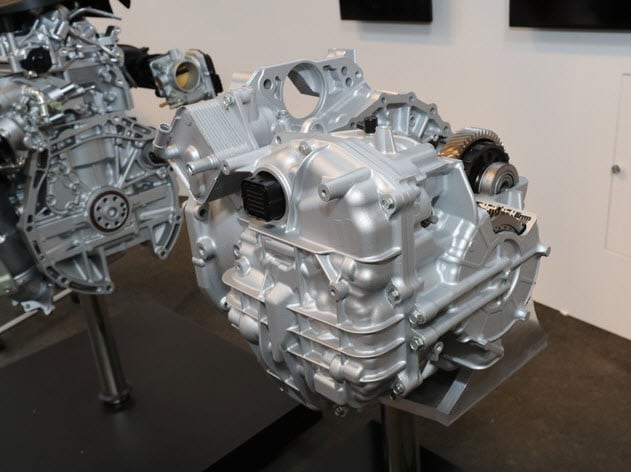 The 2018 Honda Accord is fully redesigned and reengineered! High on its list of biggest changes is the new lineup of engines, which provide peppy, high-efficiency performance. In addition, Honda offers the first-ever 10-speed automatic transmission seen on a front-wheel drive car, and more gears means maximized efficiency. Here's what we know so far:
---
1.5L Turbocharged Four-Cylinder
The brand-new 1.5-liter is a direct-injected DOHC turbo 4-cylinder with dual variable cam timing, and it can be attached to either a continuously variable automatic transmission or six-speed manual gearbox.
2.0L Turbocharged Four-Cylinder
The new 2.0-liter direct-injected DOHC turbo engine can be partnered with the new 10-speed automatic or the six-speed manual.
Two-Motor Hybrid Powertrain
The 2018 Honda Accord Hybrid also flaunts new two-motor hybrid technology. Its next-generation powertrain will include an automatic transmission.
---
Specs for the Accord's new engines have not been released yet, but not to worry, we'll have them up on our blog as soon as they're revealed!
To get an idea of where the lineup stood before, the 2017 Honda Accord offers a 2.4-liter inline-4 that delivers 185-189 horsepower and 181-182 lb-ft of torque depending on the selected model. It also offers a 3.5-liter V6 that produces 278 horsepower and 252 torque. We expect that the new turbocharged 2.0-liter four-cylinder will provide close to, or even perhaps more power than the V6 it will supplant, but we'll keep you apprised as additional details are confirmed.
"With these three advanced new powertrains, the tenth-generation Accord will be the most fun-to-drive, refined and fuel-efficient Accord yet. Just as the new Honda Civic injected new energy into the compact car segment, we expect this all-new 2018 Accord will make people rethink the midsize sedan," said Jeff Conrad, senior vice president and general manager of America Honda Motor Co., Inc.