Honda Sensing should make every driver feel safer and more confident when taking the wheel. The suite is a combination of warnings and automation. On many Hondas, these are standards. On others, the Sensing package is extremely affordable. Either way, shoppers will find that peace of mind and affordability can go hand in hand.
During everyday travel, drivers encounter risky situations. With the Honda Sensing autobrake, you've got a backup for your reflexes. It employs sensors and cameras to watch the front end. If a collision seems likely, the autobrake will slow or stop the Honda. An audible and visual collision warning may allow the driver to slow before the autobrake is needed.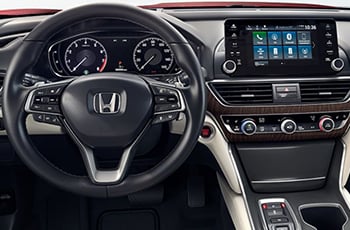 Another common danger is straying off the road or out of your lane. Only Honda Sensing has road departure mitigation. This system recognizes if your wheels are leaving the pavement. It may reduce speed to help the Honda driver keep control of the car. There's a steering assist as well to help the driver get the car back onto the road. The lane departure warning uses a camera to watch the lines. If the car's wheels seem to be directing it out of the lane, an alert will sound and an assist will help the driver straighten up.
For your daily commute or a long trip, there's nothing like a partner to do the driving. Adaptive Cruise Control becomes that partner thanks to its low-speed follow capability. This Honda Sensing feature has become even more capable with the introduction of traffic sign recognition. The system can warn you if the speed goes up or down.
In addition to these Sensing features, Honda offers LaneWatch, a camera-based blind spot monitor, as well as a full blind spot monitor with a cross-traffic alert. To assist drowsy drivers, there's a Driver Awareness Monitor. Automatic high beams can raise and lower to match conditions. With all of this help, a driver can feel sure that they will see dangers and react more quickly.
Honda Sensing is available on almost all models, including the Honda Fit, Odyssey minivan, Pilot three-row SUV, Ridgeline pickup truck, or the Civic hatchback, sedan or coupe. The suite is standard on the Accord sedan, the Clarity hybrid, and the Honda CR-V EX. Every Honda has a special rear view camera. Unlike other automaker's reverse cameras, this one has three views. Drivers see more and are able to avoid more as a result.
Find your Honda in our large inventory; come in to take a test drive at Honda of Fort Worth and learn about the latest deals and financing specials.