Say Goodbye To The Old Passport
Newer drivers might not remember the old Honda Passport. It was an important model in the company's history, being the first SUV that Honda made. It was in production from 1994 through 2002. Seating 5 people, the Passport made a big impression with Honda fans, but it couldn't make it through the 2002 season and very quickly disappeared from memory. You're about to learn all about it here today because Honda is bringing back the Passport for the 2019 season. It was unveiled on November 27th and detailed all of the new and exciting features that will be on the new Passport. It's a blend of old and new and will certainly excite folks who remember or maybe even owned an old Passport model back in the day.
A New Adventure for Passport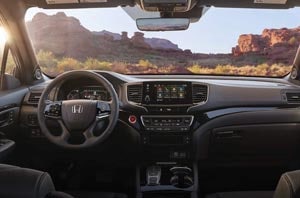 Honda is renewing its Passport model in 2019 because it believes that the old Passport SUV can be improved upon and find a home with today's picky SUV shoppers. There's just something about a "first" in a company's history that makes it resonate with current fans. When you own a 2019 Passport, you're definitely getting something altogether different from the last 2002 model, but you're also getting something that's going to bring back a lot of nostalgia and love, too.
Henio Arcangeli, Honda's Senior Vice President of American Honda Motor Company explained a few things you should know about the new Passport. "The new Passport is a more personal, powerful and off-road-capable SUV that hits the sweet spot between daily driving comfort and weekend off-road," he explains. There's a lot of information just in this description of the new Passport. First off, the new Passport is going to be more powerful than the old one, making it a potential weekend adventurer. The old Passport wasn't in the realm of off-roading vehicle, so the idea that the new Passport is going to make a play for off-road skies is absolutely something to look forward to.
There's no word yet on when the new Passport will make an official debut in the United States, but it's being built and developed in the U.S., so you'll see a lot of U.S.-influenced decisions in the design. It's a brand new adventure for Honda and for the folks who love the vehicles that they make. As more information becomes available about the Passport, we'll pass that along to our loyal customers who are waiting for this one to make its debut on our dealership lot very soon. It could be early 2019 or late, and we'd still be just as excited to get this one on the lot and take it for a spin with one of its fans, whether old or new!
More Information about the Passport
The Passport is making a comeback in 2019, and we'd like to answer any and all questions you have about its potential debut here at our dealership. Our dedicated team of salespeople are always standing by ready to take on your questions! We learn more about the new Passport each and every day, so always check back frequently to see what Passport news we have to share with you. And of course, as soon as the Passport hits our dealership lot, you're invited to come down here for a full debut of the model! We'll take you out for a test drive and show you what it can do.