What's in our Burger?
Hint: It begins with S and rhymes with take.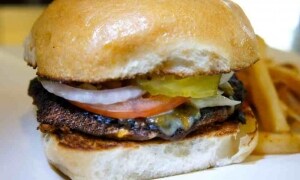 At Twin Creeks Cafe in Honda of Fort Worth, we grind our burgers from a secret combination of fresh and never frozen ground beefs. Hint - steak has a lot to do with it. Suffice it to say that leanness, superb texture and flavor are our goals.
Next time you're in for an oil change or just driving by on I-810, stop by Honda of Fort Worth, Fort Worth Texas. Twin Creeks Cafe is nestled inside. We'll have the grill hot and waiting for you.
Check out this slab of delicious New York strip steak...
Kids Playroom
Kids like kid stuff.
They don't like waiting areas or sitting quietly with their hands neatly folded in their laps.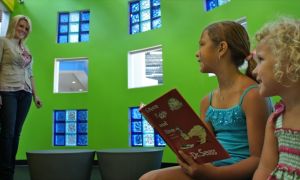 At Twin Creeks Cafe / Honda of Fort Worth, we get that. That's why we built you a kids playroom. It has a widescreen TV, plenty of books, kid-sized furniture, some games, and a 'privacy-quietness curtain.
You can hang out there with your kids. Or you can sit out in the lounge, a couple feet away, sipping an iced tea as you re-read Pride & Prejudice, smiling and waving to your kids through the double-paned glass, I love you too, Mr. Darcy...err...I mean, Honey!