Dallas Honda Dealership Reviews the New Civic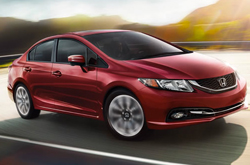 The Honda Civic has always been a heavy competitor in the compact car segment and it continues to be a prime pick for buyers in search of a reliable, fuel-efficient daily driver. Coming into the new model year, the Civic has received a new SE trim level that sits above the LX, which is the only modification made to the car for 2015. Outside of this change, the 2015 Honda Civic in Fort Worth offers a spacious interior, delivers a refined ride and comes equipped with excellent features. Check out our 2015 Honda Civic review below to acquire more info about these amenities and others.

Features and high-end components can be throughout the 2015 Honda Civic. A blind-spot camera, Siri Eyes Free voice command, keyless ignition/entry, a sunroof, leather seating and heated front seats are just a few of the benefits one can take advantage of by owning the latest Civic. Additionally, the car offers plenty of storage, delivers ample room for all passengers and provides comfortable seating. It also comes with 11.7 cubic feet of cargo space in the coupe, 12.5 cubic feet in the sedan and 10.7 cubic feet in the hybrid model.

With so many models to choose from, the 2015 Honda Civic in Fort Worth offers a variety of engines. A 1.8L four-cylinder comes standard on most models, delivering 143 horsepower and 129 lb.-ft. of torque. The Civic Hybrid comes equipped with a 1.5L four-cylinder and an electric that work together to produce 110 horsepower and 127 lb.-ft. of torque. A Civic Natural Gas model is also available, which comes with a 1.8L engine, generating 110 horsepower and 106 lb.-ft. of torque. The Civic Si sports the biggest engine of them all, boasting a 2.4L four-cylinder, exerting 205 horsepower and 174 lb.-ft. of torque on all variants.

If you'd like to lean more about the 2015 Civic, continue browsing our Honda Civic review below for additional details.