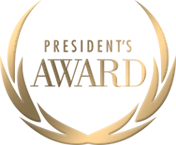 President's Award
2017
"The best or nothing" is a saying that we keep close to heart at Honda of Fort Worth.
Every day, we strive to provide the best possible experience to our customers, and our commitment to excellence has been recognized by Honda Motor Company.
We're privileged to announce that Honda of Fort Worth has earned a 2017 Honda President's Award, and we'd like to thank our loyal customers for helping us achieve this honor!
What Is the Honda President's Award?
The President's Award is the most esteemed honor that a dealership can receive from Honda. Recognizing excellence in sales, service and customer satisfaction, the award is presented annually to top-performing dealerships who excel in all areas of operations.
How Are Honda President's Award Winners Selected?
Several aspects are taken into consideration to determine President's Award winners. Customer surveys provide key metrics that help Honda assess dealership performance. Along with profitability and sales effectiveness, Honda dealers must have high scores in Vehicle Condition Index and Customer Service Experience surveys to earn a President's Award. Dealerships must also achieve high marks in Service Retention and Brand Representation.
If you're looking for a top-rated Honda dealer in the Dallas-Fort Worth metroplex, near Weatherford, Parker County, Walsh Ranch choose Honda of Fort Worth. From new and used car sales to auto repair and parts, we aim to impress in every department. Visit soon for an award-winning experience!