Dallas Dealer Researching the New CR-V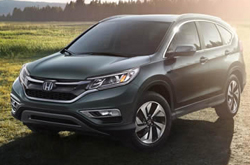 One of the top compact SUVs on the market, the 2015 Honda CR-V is just as impressive as it has always been. Boasting incredible fuel economy, excellent cargo space and top-notch features, the CR-V continues to be a leader in its class. Coming into the new model year, the SUV has received several updates and now offers even more outstanding features. Check out our 2015 Honda CR-V review to learn about each one and discover why it's a must-have vehicle.

The latest Honda CR-V SUV has received fresh, new additions to its exterior and interior. Both the front and rear fascias have been upgraded, and LED running lamps have been added. Inside the cabin, the center console has been redesigned to display a more traditional look, rear climate vents have been installed to maximize air circulation and a blind-spot monitoring system is now included on EX, EX-L and Touring trims. The latter trim makes its debut on 2015 Honda CR-V in Fort Worth this year and comes equipped with a power liftgate, 18-inch wheels, adaptive cruise control, lane departure warning, navigation, HD Radio, a forward collision mitigation system and projector beam headlamps. Driver seat memory settings are also available for owners to take advantage of.

A 2.4L four-cylinder is the only engine offered on the 2015 Honda CR-V in Fort Worth. The variant generates 185 horsepower and 181 lb.-ft. of torque, providing exceptional performance across the model lineup. A continuously variable transmission is matched with the engine and can be fitted on front-wheel or all-wheel drive versions of the compact SUV. An EPA-estimated 29 mpg combined is produced on front-wheel-drive variants, while all-wheel-drive models deliver an EPA-estimated 28 mpg combined, which are both excellent numbers.

Want to read more about the CR-V? Keep browsing our 2015 Honda CR-V review for additional details.