Honda Dealership in Dallas Reviews the 2015 Odyssey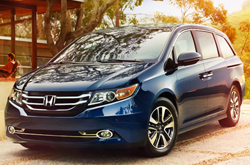 The Honda Odyssey remains one of America's most-appreciated and versatile minivans for the 2015 model year. Equipped with a high-powered, fuel-efficient V-6 engine, a wide collection of available features and ample space due to fold-down third-row seat, the 2015 Honda Odyssey is a top pick for buyers with families. With so many incredible components and amenities to take advantages of, the minivan arrives this year with no changes. Check out our 2015 Honda Odyssey review below to discover more details about the car and its range of first-class features.

Built for comfort and practicality, the 2015 Honda Odyssey in Fort Worth is a great addition to any family's fleet. It comes with a configurable second-row seat that can be adjusted to deliver quick access to the third-row seat, create a middle aisle or produce a side aisle. There's also a cooling compartment for beverages and a trash bag holder in the center console. A rear-seat entertainment system is also available on all Touring Elite models, providing around-the-clock amusement for all backseat passengers. Additionally, drivers can make use of 38.4 cubic feet of cargo space behind the third-row seat or utilize 93.1 cubic feet of space with the third-row folded down, which is perfect for transporting large items.

Rated at 248 horsepower and 250 lb.-ft. of torque, the Odyssey's 3.5L V-6 engine is very strong. It's matched with a six-speed automatic transmission, which helps the minivan achieve an EPA-estimated 22 mpg combined, 19 mpg city and 28 mpg highway. The Touring Elite model can also go from zero to 60 mph in just eight seconds, which is mighty fast for its size. In addition to this, the 2015 Honda Odyssey in Fort Worth can tow up to 3,500 pounds when properly equipped.

Want more info about the new 2015 Odyssey? Continue browsing our Honda Odyssey review below.