Dallas Honda Dealer Reviews the 2015 Pilot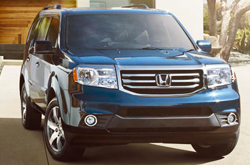 The eight-passenger 2015 Honda Pilot makes its way onto the market offering top-notch comfort, excellent cargo space and first-class seating. For the new year, the crossovers is primarily unchanged; however, a new Special Edition trim level has been fitted between the EX and EX-L trims. This fresh addition, along with the Pilot's incredible features, make the car a great choice for buyers in search of a vehicle that is well-equipped and offers excellent interior space. Read our 2015 Honda Pilot review below for additional details about the crossover and its collection of amenities.

Delivering 250 horsepower and 253 lb.-ft. of torque, a 3.5L V-6 is the only engine available on the 2015 Honda Pilot in Fort Worth. Fitted on either a front-wheel drive or all-wheel drive platform, the engine is mated with a five-speed automatic transmission. If you plan on doing a bit of hauling with the crossover, you'll also be happy to know front-wheel drive models can tow up to 2,000 pounds, while all-wheel drive editions can tow up to 4,500 pounds, perfect for those carrying lots of cargo or those in need of extra power on the road.

The latest addition to the Pilot's lineup this year is a new Special Edition trim level. Offering a sunroof, 18-inch wheels, satellite radio and a rear-seat entertainment system, the model is a good choice for buyers who are looking for a little more luxury. Aside from these features, the 2015 Honda Pilot in Fort Worth offers a variety of other amenities across the lineup, including a power liftgate, leather upholstery, a navigation system and heated front seats. Each one of these components adds to the car's overall appeal.

To learn more about the crossover and review spec information, keep reading our 2015 Honda Pilot review for extra facts.