About Honda of Fort Worth CR-V Reviews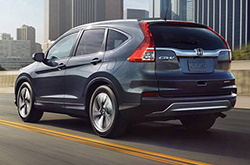 The 2016 Honda CR-V is a compact SUV fit for the masses. Offering a range of outstanding features the entire family will appreciate, a spacious cabin and self-folding rear seats, the CR-V is ideal for buyers in the market for a reliable CUV that seats five comfortably. In addition, the vehicle is available with several different safety features that work to assist drivers and help prevent avoidable accidents. A new Special Edition trim is also now offered on the CUV this year, which you can read more about in our 2016 Honda CR-V review.
The only change made to the 2016 Honda CR-V in Fort Worth is the addition of a Special Edition trim. A step above the LX model, the SE comes with 17-inch alloy wheels, a security system and rear privacy glass along with all components found on the LX trim. These features include Bluetooth connectivity, a four-speaker sound system, a rearview camera, CD player, USB port and a tilt-and-telescoping steering wheel. On top of these components, the CUV offers a variety of first-class safety technologies, such as forward collision warning, lane departure warning and blind spot monitoring and automatic braking intervention.
A 185-horsepower 2.4L four-cylinder engine drives the 2016 Honda CR-V in Fort Worth. The displacement also delivers 181 lb.-ft. of torque and is matched with a continuously variable transmission that can be equipped to front-wheel and all-wheel drive models. When outfitted on front-wheel variants, the engine helps produce an EPA-estimated 29 mpg combined, 26 city and 33 highway, while all-wheel drive models deliver 27 mpg combined, 25 city and 31 highway.
If you'd like to acquire further details about the latest CR-V model and its features, scroll down and keep reading our 2016 Honda CR-V review. You also find a 360-degree video review, showcasing the CUV's exterior and interior design.