2016 Honda CR-Z Reviews from Honda of Fort Worth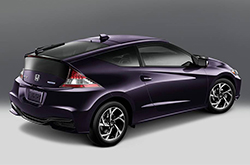 A series of updates can be found on the brand-new 2016 Honda CR-Z. The unique two-seater hybrid is equipped with new technologies, safety equipment and available options throughout its model roster. It also features a revised exterior that is sporty in appearance and pleasing to the eye. Offered in three trims again this year LX, EX and EX-L Navi - the CR-Z continues to meet the needs of today's buyers in the market for an affordable two-seater hybrid and is a favorite of many Honda enthusiasts. Take a minute to read our 2016 Honda CR-Z review below to acquire more information about the new model.
Donning sleeker lines, upgraded headlights, a more athletic front end and a restyled rear end, the 2016 Honda CR-Z in Fort Worth is one of the more attractive hybrid cars on the market. It's also incredibly lightweight and features an updated dashboard design that has a futuristic flair. Additionally, for the new model year, the CR-Z is available with more features than last year's model, including a new 7-inch touchscreen display and a blind-spot warning system. Other notable features include a retractable cargo cover, Bluetooth connectivity, heated front seats, navigation and a rearview camera.
Producing 130 horsepower and 140 lb.-ft. of torque, the 2016 Honda CR-Z in Fort Worth is outfitted with a 1.5L four-cylinder engine and an electric motor. A standard six-speed manual transmission is also found on the two-seater; however, buyers can swap it out for a continuously variable transmission that drops the torque to 127 lb.-ft. With CVT, the CR-Z produces an EPA-estimated 37 mpg combined, 36 city and 39 highway, while models equipped with the manual transmission deliver 34 mpg combined, 31 city and 38 highway.
Keep reading our 2016 Honda CR-Z review below for more details about the model and other information.