Haven't taken a look at your tires in over a year? By  ignoring them, you could be throwing money down the drain and putting yourself  and others at risk on the road.
Are My Tires Bad?
When you need new Honda tires, our tire shop in  Dallas-Fort Worth can help. Our service center offers a wide range of products from manufacturers like Michelin, Dunlop,  Bridgestone and Goodyear. Common signs of bad tires include:
Bubble in sidewall - Usually occurs after  hitting a pothole and represents an area where air is leaking out of the tire;  could result in a blowout
Cracks or cuts - Often due to excessive sun  exposure or old age; cracks and cuts in tires should be looked at right away to  determine if they're superficial or running deep into the tire
Low or bald-looking tread - Low tread is  dangerous because it reduces traction on the road, especially in icy and rainy  weather; plus low-tread tires are more prone to blow out
If your tire tread is only around 2/32" (1/16"), bring  your vehicle to our tire shop near Dallas ASAP. Check out our service coupons to see if we have any current tire sales before you stop by.
Tire Rotation & Wheel  Balancing
We highly recommend having your tires rotated twice a  year, or about every six months or so, to make sure the tread wears slowly and  evenly. Wheel balancing should also be performed during this timeframe, or when  you experience performance problems such as excessive vibration on the highway  and a bouncy ride. When you need a tire rotation and balance in the Dallas  area, schedule  an appointment at Honda of Fort Worth.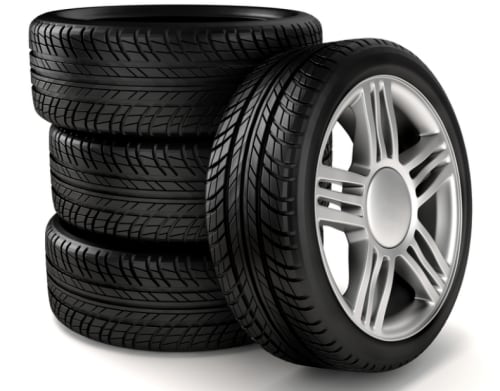 Tire Alignment Service
Tire alignment is another crucial service that will help prolong the life of your tires. If you notice that your steering wheel appears  crooked when you're driving straight or that your tread is wearing unevenly, it  could mean that you need an alignment service. We recommend having alignment  checked every six months, since most drivers had a tough time being able to  tell when tires are misaligned.
Tire Repair Near Me
Honda of Fort Worth is at your beck and call when you  need new Honda tires or any type of tire-related service. Whether you're  looking for standard Honda Accord, CR-V, Fit or Civic tires, or options like  summer and off-road tires, we can assist you. Along with finding that our  prices are competitively priced against chains like Tires Plus and Walmart, we're  sure you'll also enjoy our various complimentary amenities, such as free car  washes, Wi-Fi and refreshments.