We opened Twin Creeks Cafe, located inside Frank Kent Honda in 2010, as a convenient and healthy option in West Fort Worth, an area over-saturated with processed fast food choices.
The Twin Creeks Cafe menu has everything from eclectic salads with house-made dressings, grilled fish of the day, tenderloin filet, walnut-crusted chicken breast and more - all freshly cooked to order and with the freshest ingredients. We even grow our own rosemary and mint on-site to add even more freshness in our food.
For a hearty breakfast, the menu includes: Mexican and Greek-style omelets, homemade waffles and pancakes, egg and cheese tacos and paninis, chorizo quesadillas and more.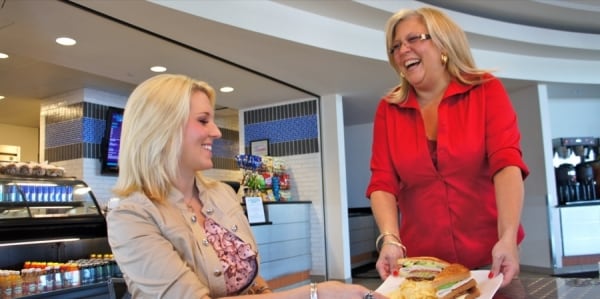 While most motor companies only have vending machines in their shops, siblings and co-owners Will Churchill and Corrie Watson turned this "car dealership cafe" into a thriving restaurant - that just happens to be inside of a car dealership.
"Twin Creeks Cafe has been an exciting endeavor for us," Watson said. "The feedback has been overwhelmingly positive. Our customers appreciate a convenient, healthy option in West Fort Worth. So much so, that we've even been getting lots of catering requests!"